Geoffrey, a dapper father of two amazing kids, and Katherine, a brilliant and beautiful triathlete, found each other at just the right time in their lives, and I've loved watching their romance grow. G popped the question in the fall, setting their wedding-planning year into motion.
I was honored when Katherine asked me to be in her bridal party and was eager to start planning the first celebration alongside her local bridesmaids, Brandi, Brittany and Mandy. We enjoyed brainstorming, crafting and creating an engagement party for the adorable couple, and I was excited to host the evening at our place. We decided on a speakeasy theme with mood lighting, gilded boozy-bottle décor and 20s attire.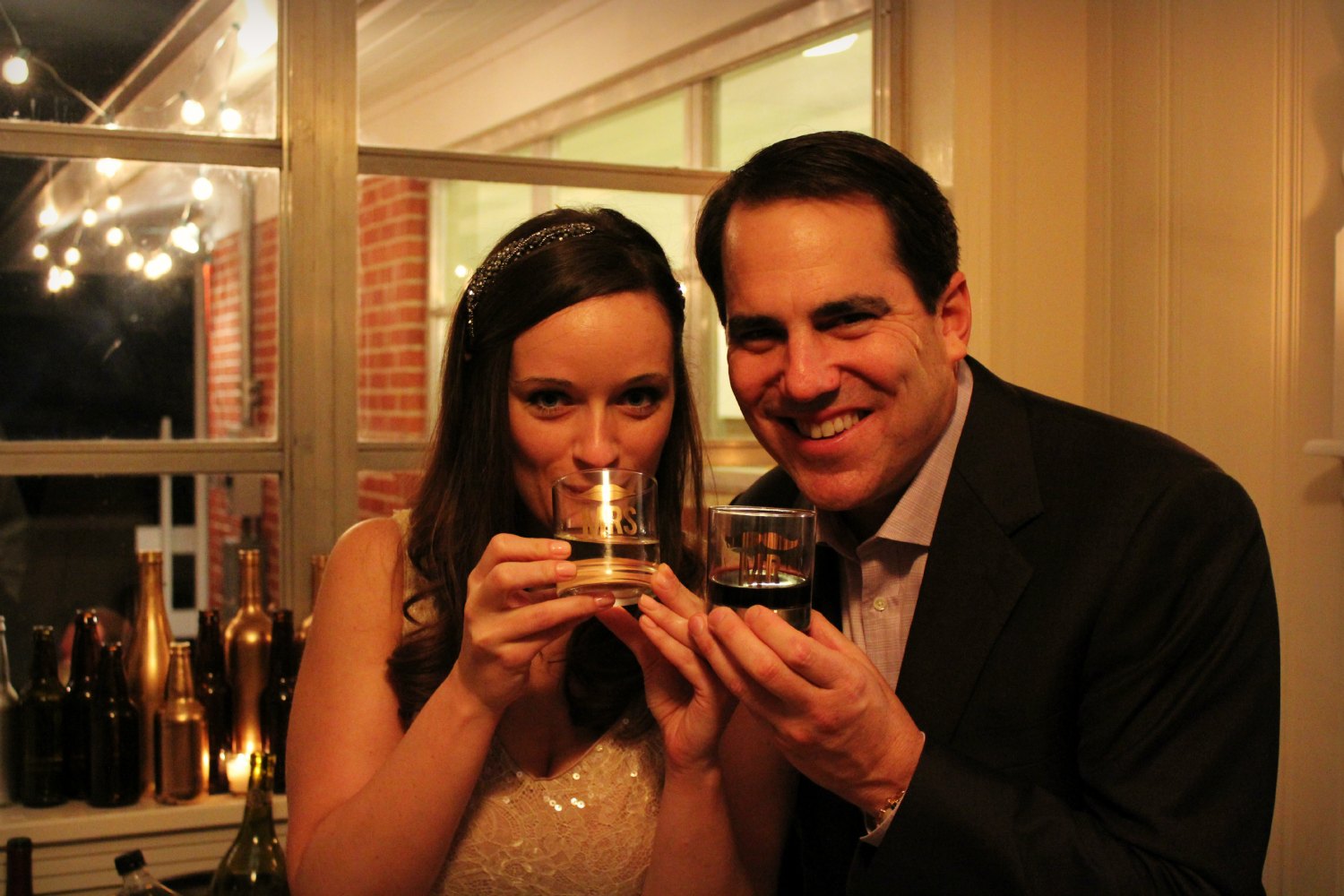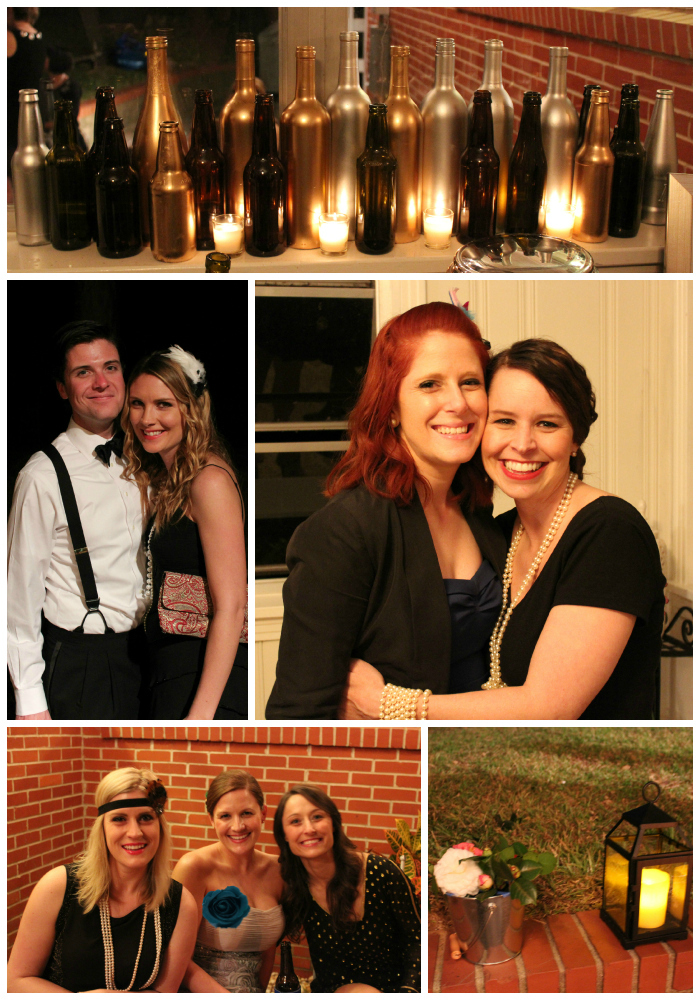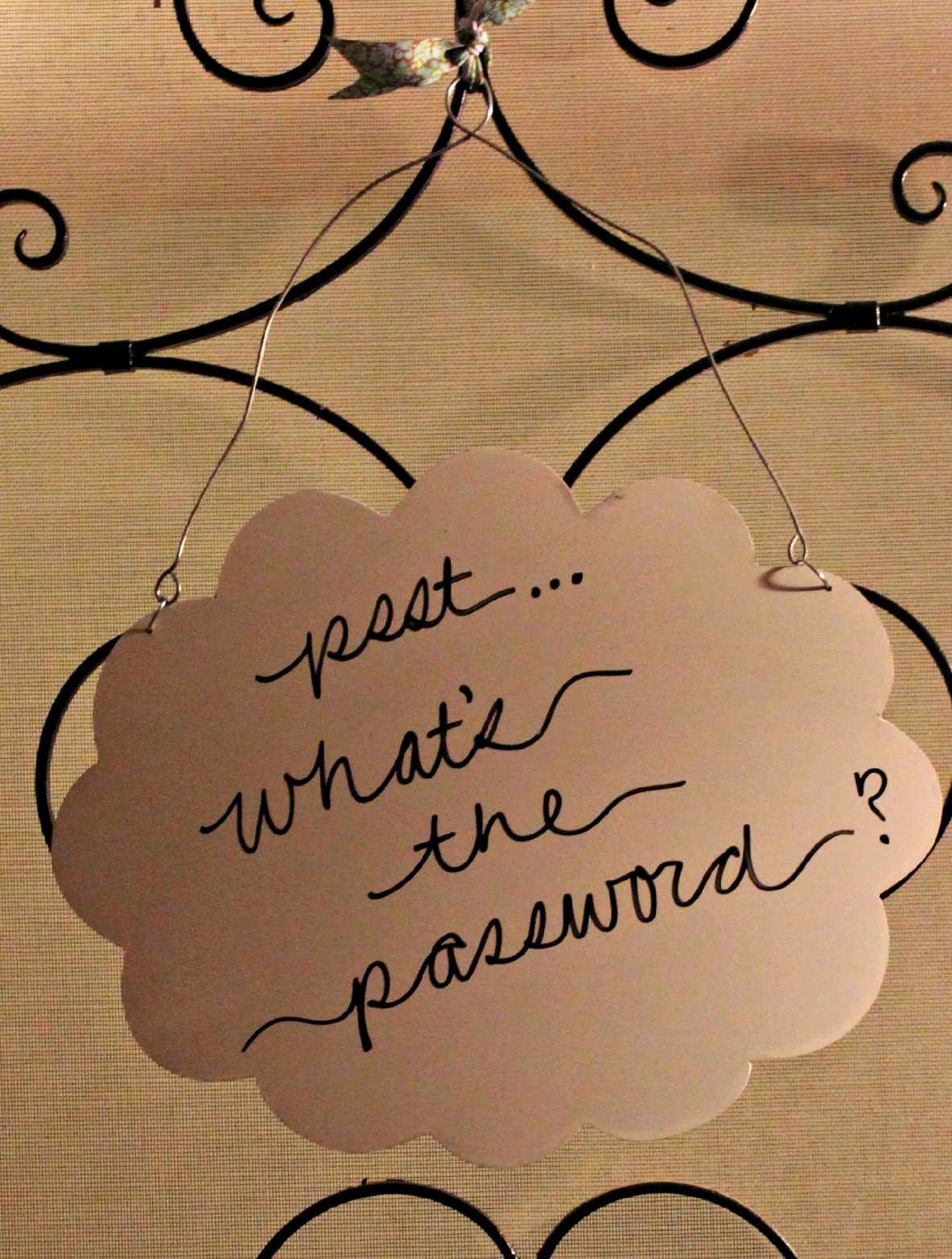 Our unique version of this Wedding Paper Divas invite helped set the theme into motion for a roaring engagement party. Guests RSVPed to our party-specific gmail address and google phone number (Great idea, Mandy!), where they could receive the speakeasy password, "manatee." The password was selected for no reason other than the bride-to-be's irrational fear of the gentle sea cow.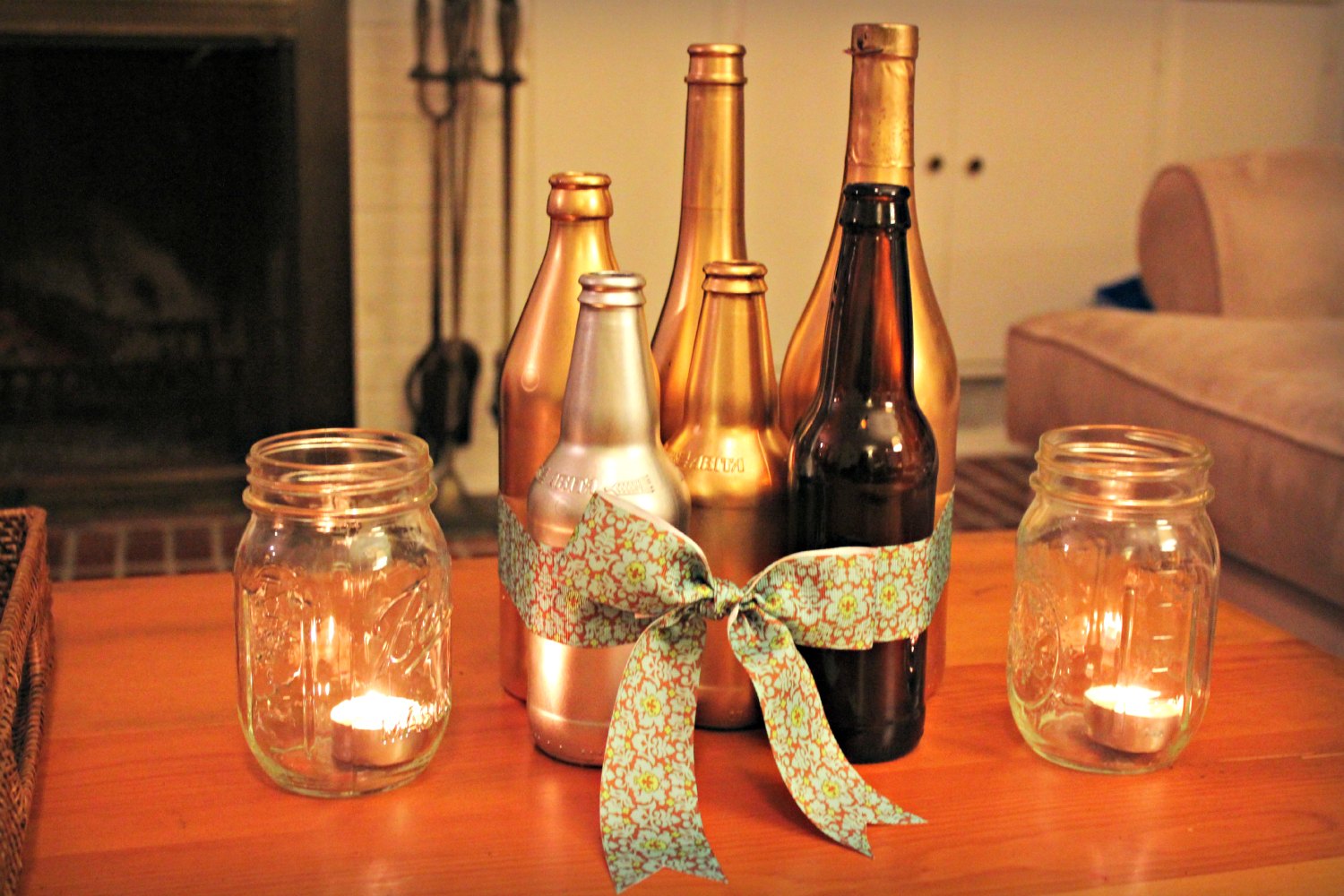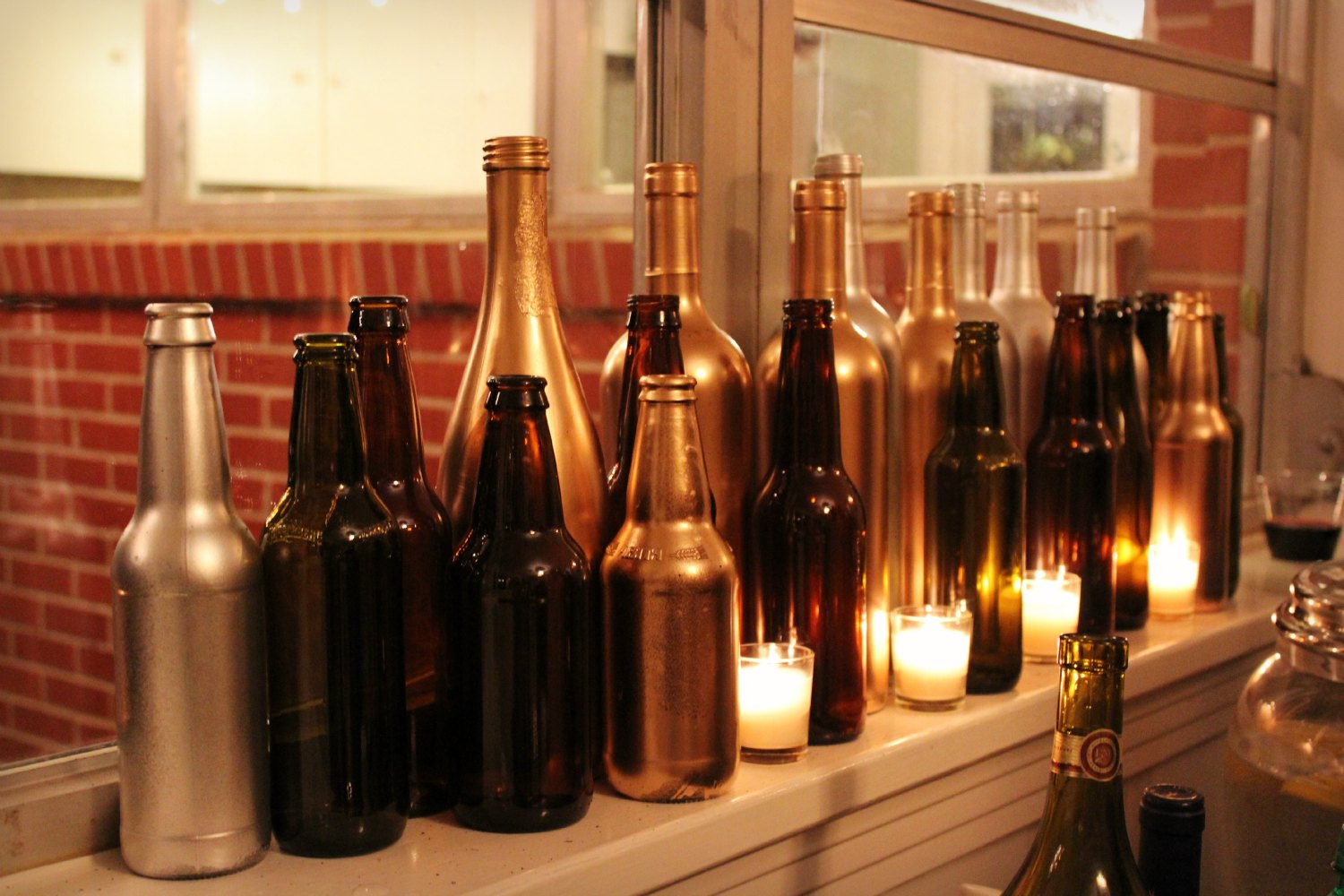 Liquid Leaf-painted jars and clear mason jars were sprinkled around the party and illuminated with a mixture of real and battery-operated tea light candles.
Beer and wine bottles from the hostesses' homes, plus some collected from a local watering hole, were spray painted in silver and gold and placed in clusters with candles. Getting the labels off the bottles required a long soak in a soapy cooler + a Brillo pad.
Brittany's pretty damask ribbon added a nice touch around a grouping of bottles and to a gorgeous feather arrangement (which I neglected to capture).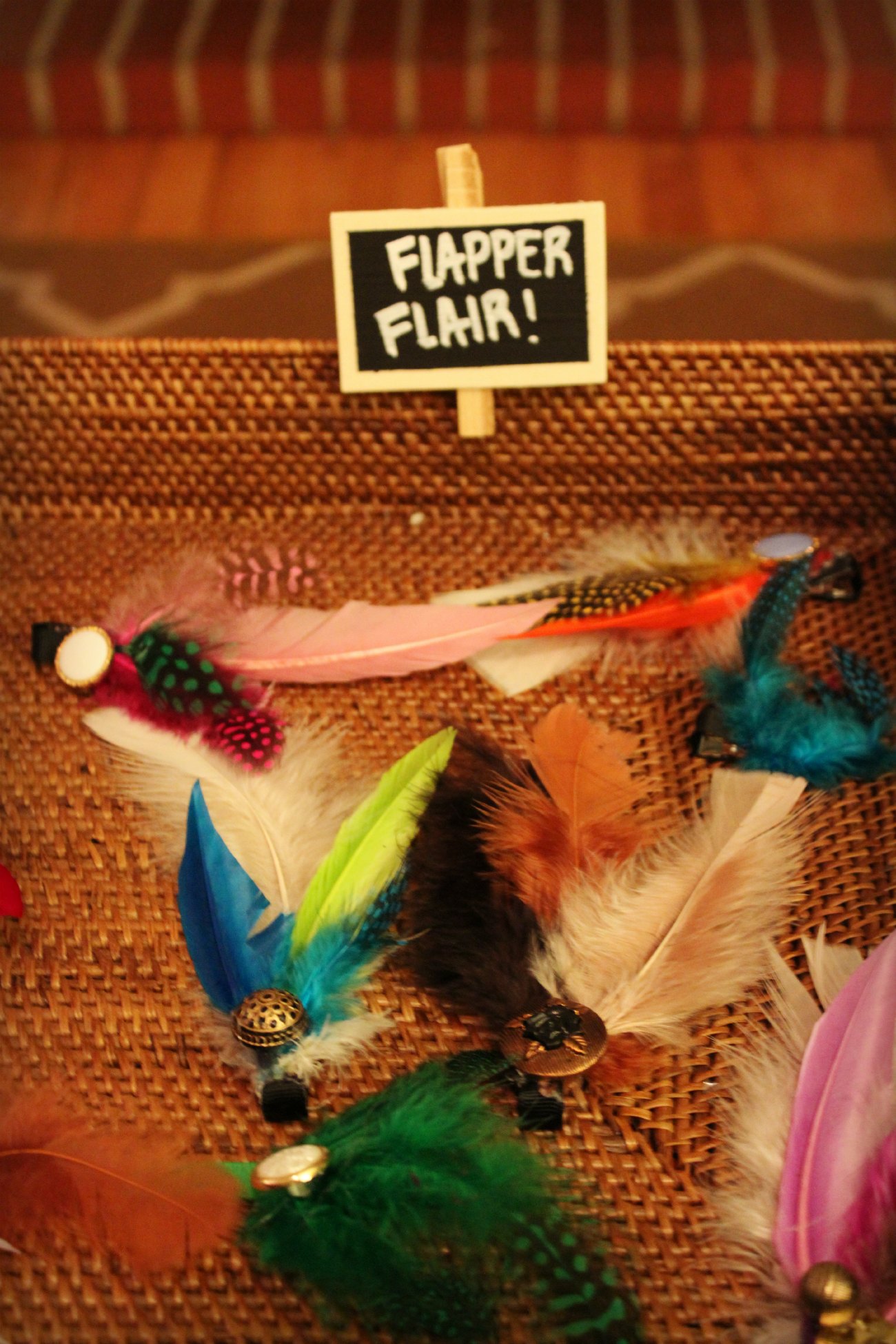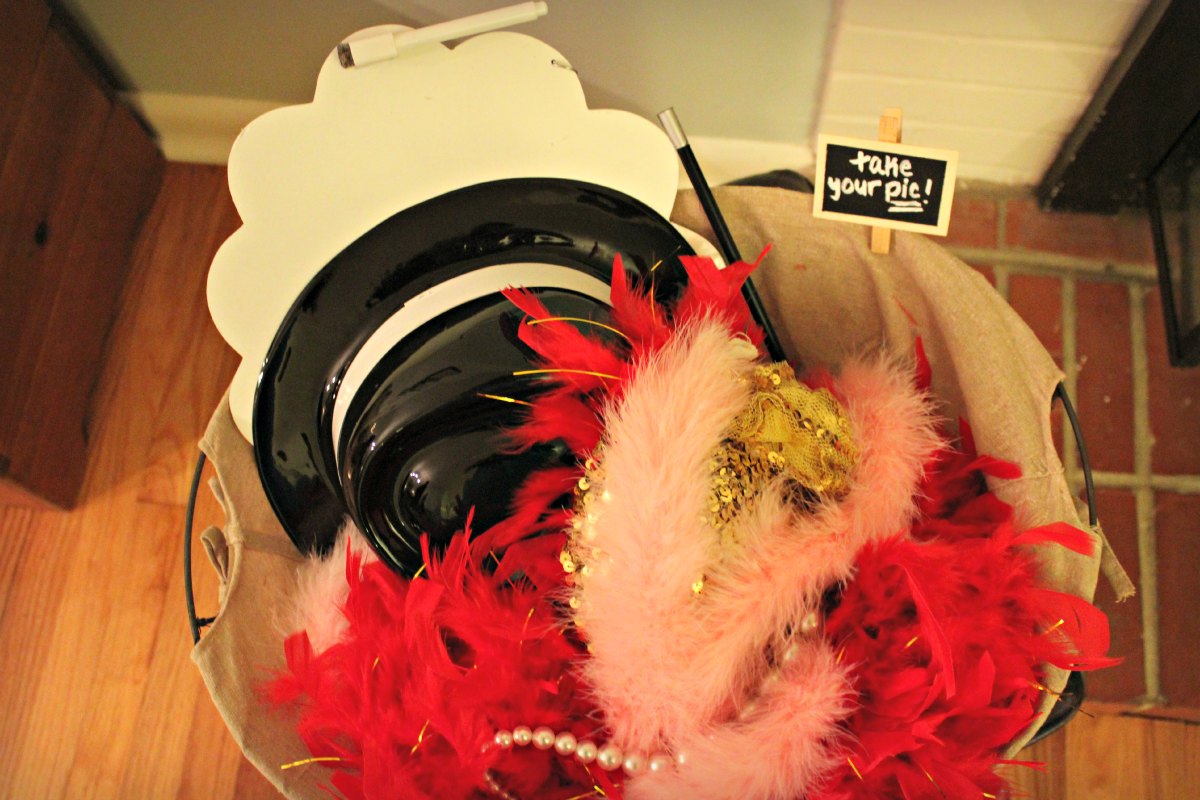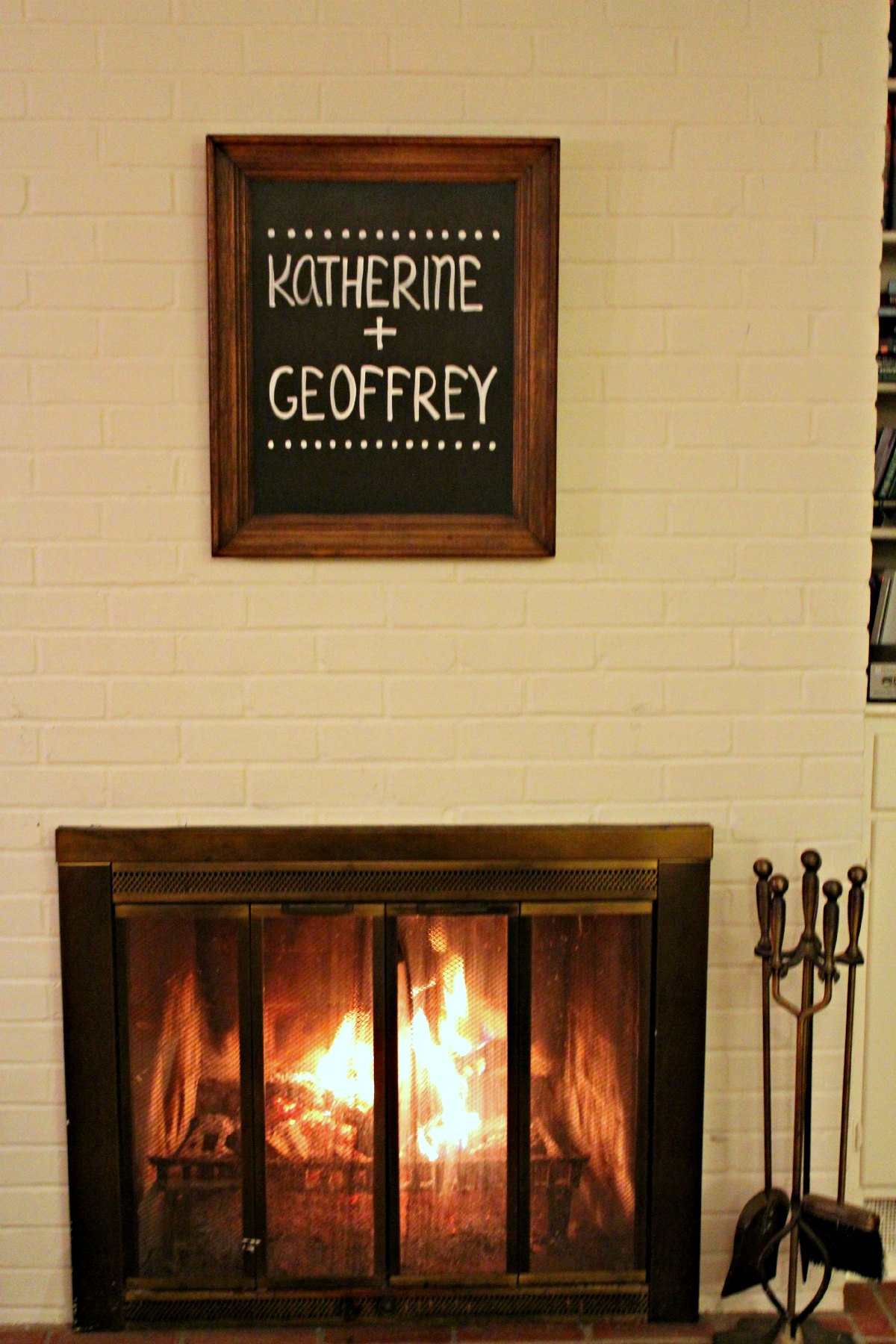 Guests could take their pick of flapper flair. We created complimentary hair do-dads using assorted feathers and hair clips from the craft store. A basket filled with 20s-era props was also nearby for those looking to ham it up. Chalkboard clips made easy labels and complimented the speakeasy theme. We relocated our kitchen chalkboard to the fireplace and added the couple's names using chalk pens, mimicking the invitation font.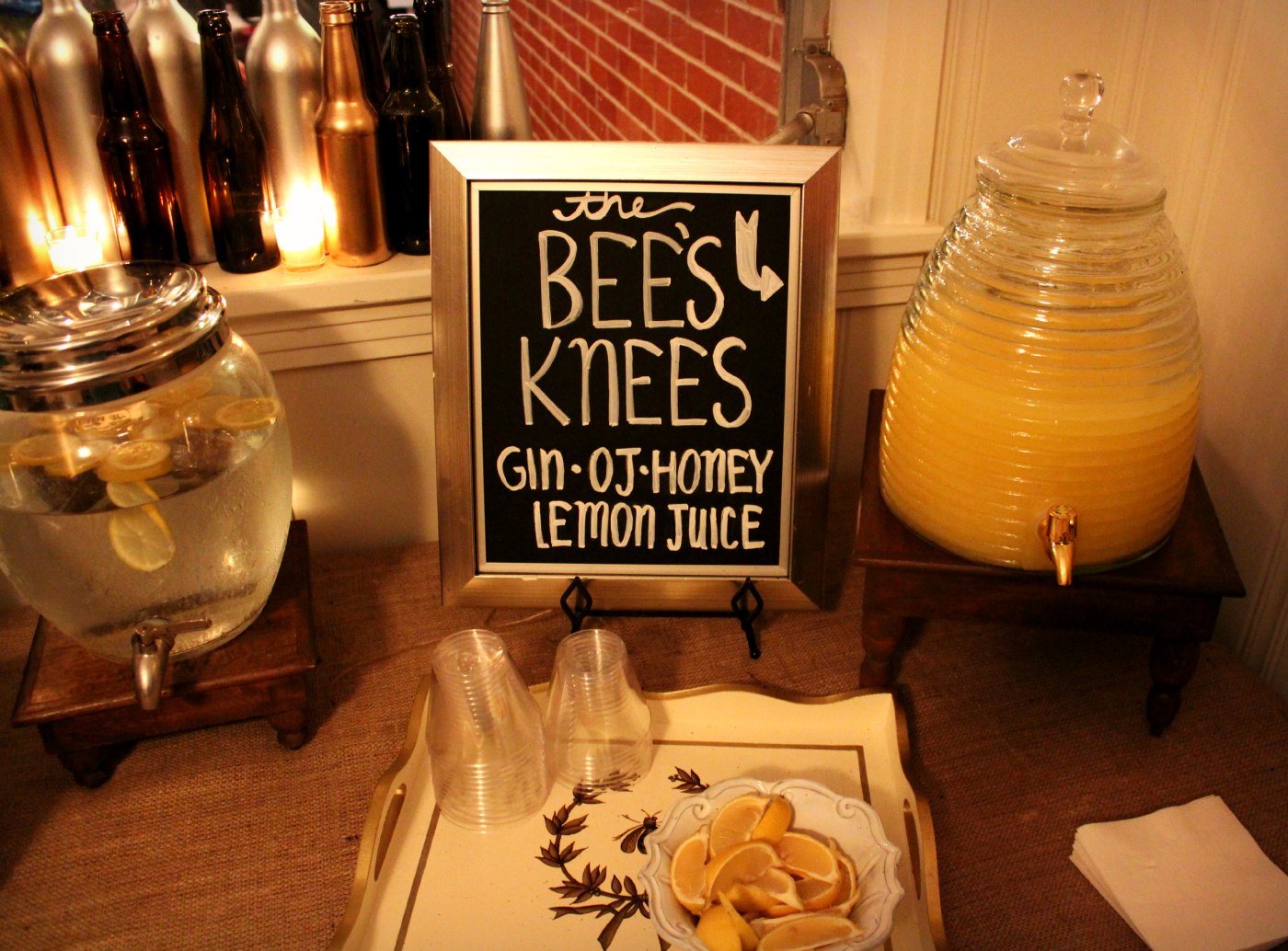 At the bar, a 20s drink was in order, so we did a little research and selected "the Bee's Knees," a gin-based drink. I'd say it was definitely more gin-based than juice-based. Lemons and fresh local honey made it a sweet signature beverage in addition to beer and wine options. The Pandora station played Jazz Age tunes until we got a little crazy with the iPods later in the evening.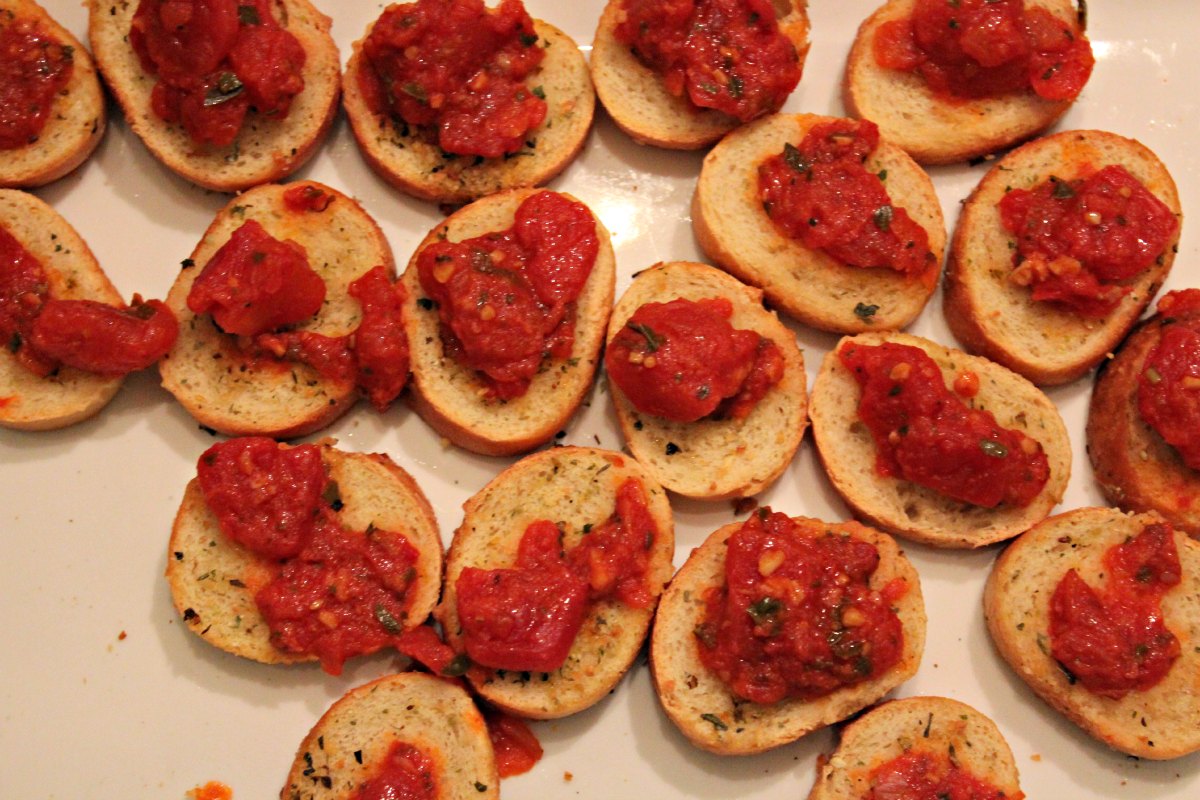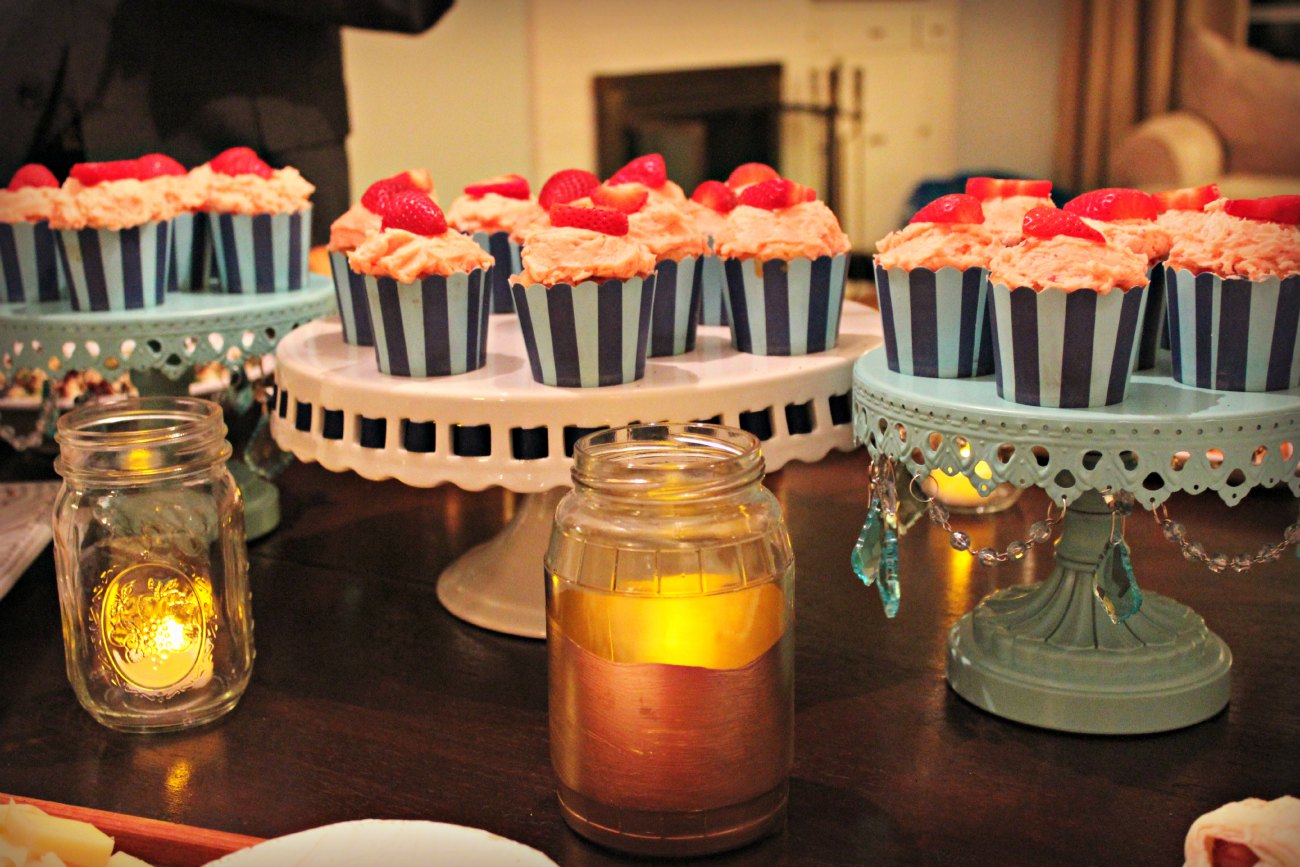 At the appetizer table, we included a few of the bride's favorites, such as bruschetta and of course the Junior League Feta Black Bean dip. The delicious strawberry cupcakes were homemade by bridesmaid Brittany – her striped cupcake liners and turquoise dessert stands were a pretty addition to the color palette.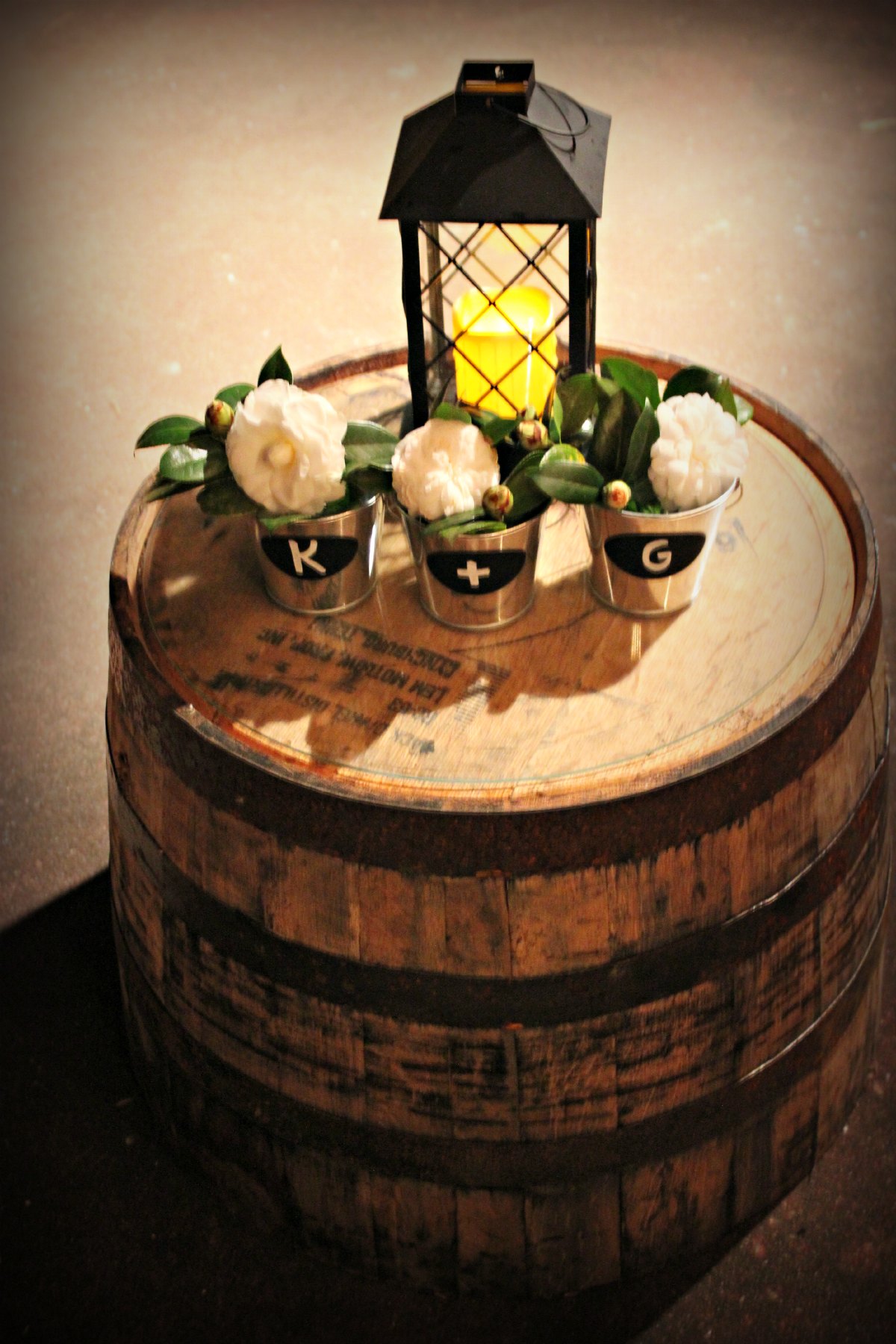 On the patio, an overturned Jack Daniels half barrel (Home Depot) with a glass top (Bed, Bath & Beyond) created a rustic, speakeasy place to rest a beverage. The little chalkboard buckets were a Target dollar-bin find, and they looked super cute with the couple's initials. Thankfully, the yard was in bloom, so bunches of camellias in buckets helped dress up the patio.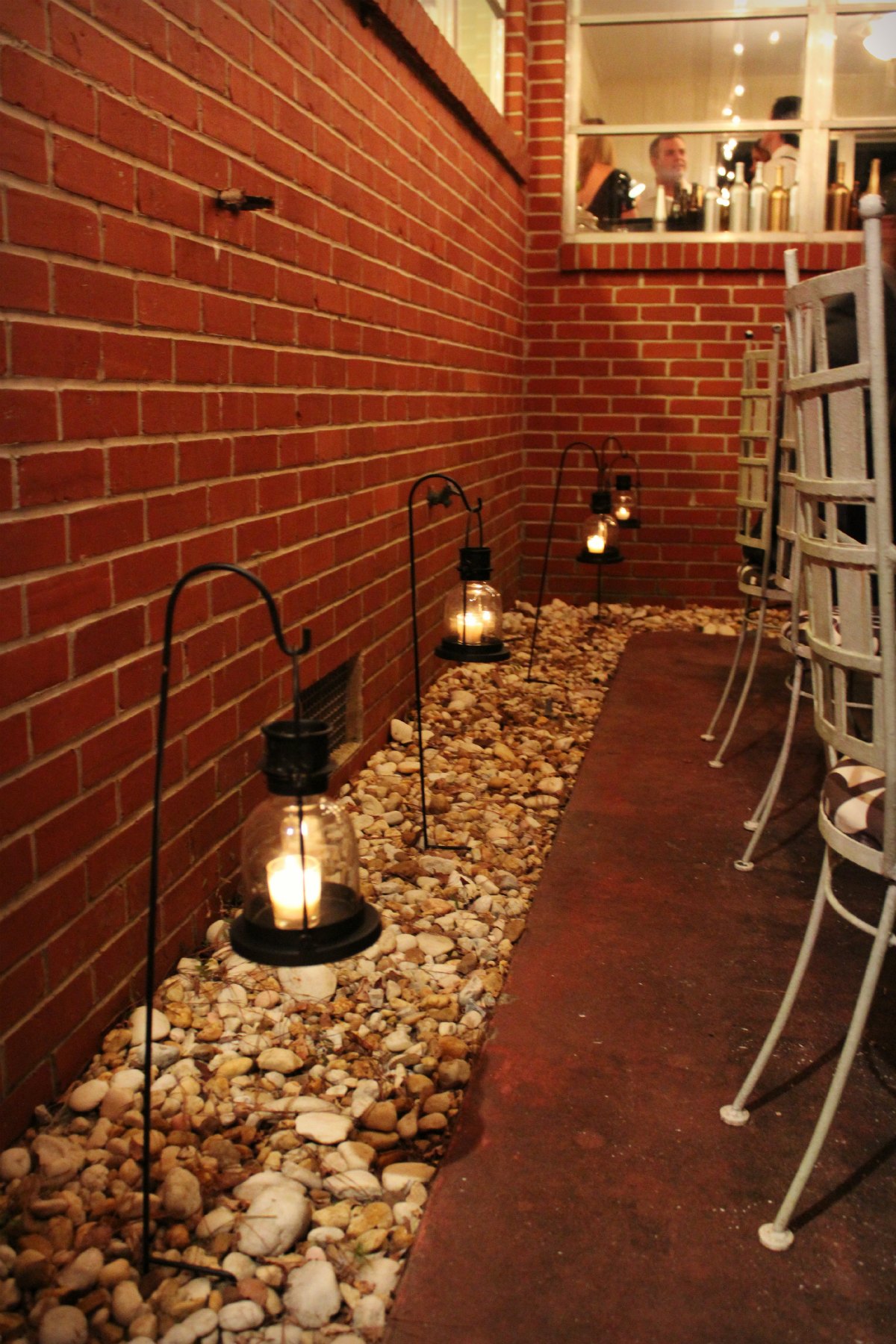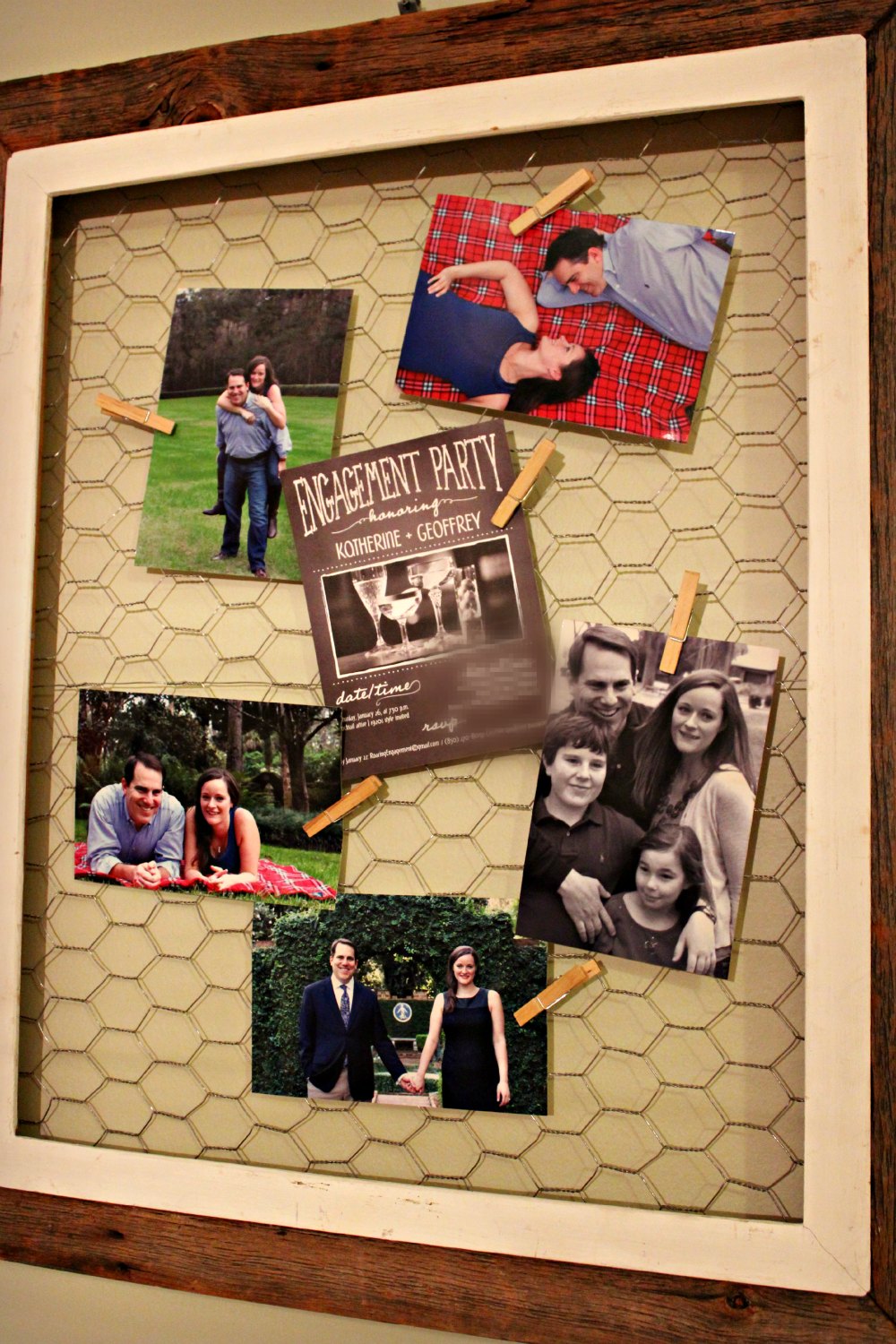 Guests kicked it up celebrating Katherine & Geoffrey. And most importantly, K & G looked like they had a blast. Happy engagement, you two! We look forward to your big day and every celebration along the way! We love you!