"Come on in, and make yourself comfortable!" That's the vibe I eventually want to achieve in our little guest room. Some progress has been made since my Five-star Ranch House post. Here's an update, plus some tips for your own guest room(s)!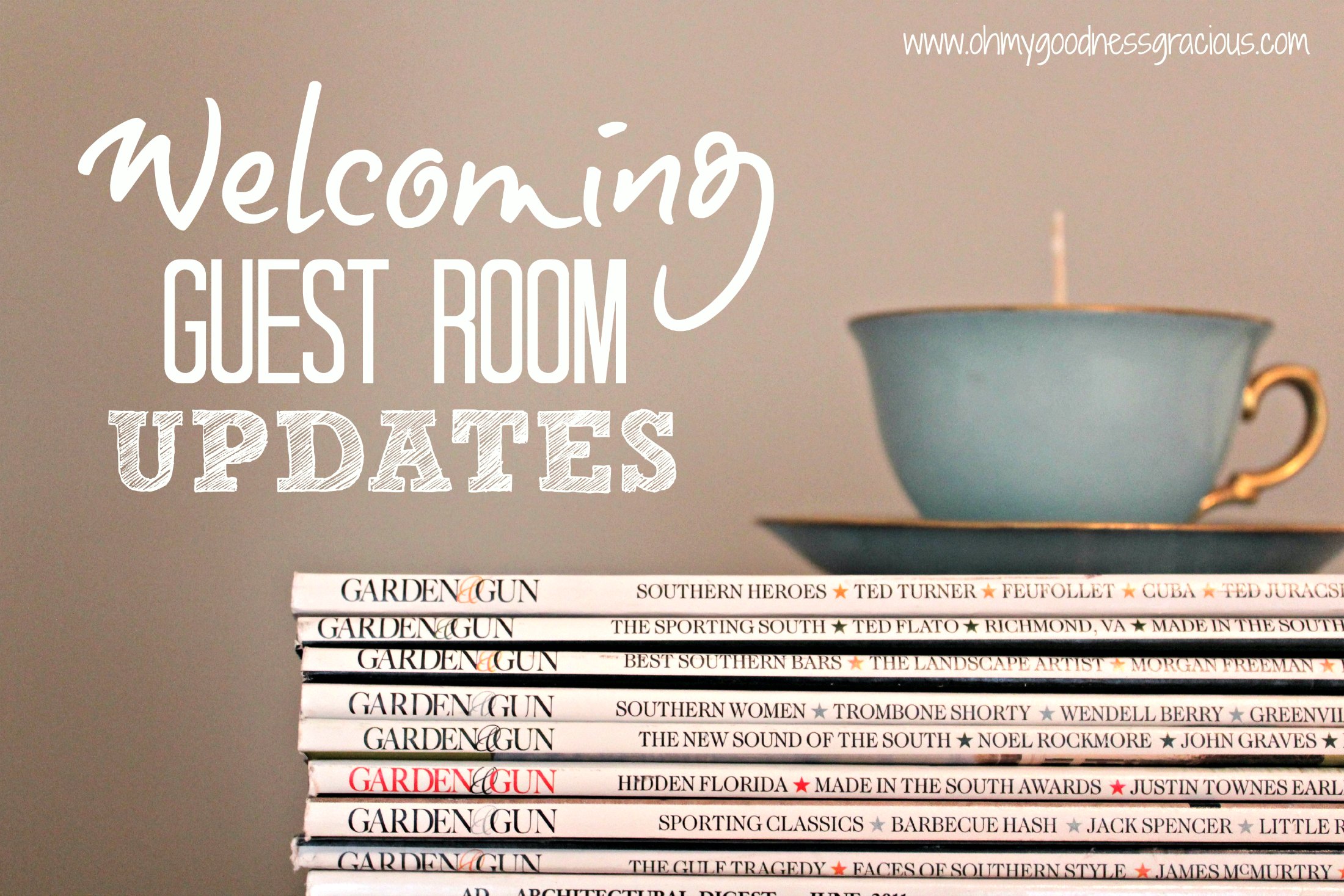 Toiletry Basket
An easy addition to any guest room is a basket filled with items visitors may have forgotten or may need. Collect a stash of items during work and play travels, and replenish your guest room toiletry basket with unused mini-shampoos and conditioners, body wash, lotion and more. My itsy bitsy toiletry basket (a tin, actually) also includes a shower cap, shoe bag, nail polish remover pads, floss, tissues and a wash cloth. Other helpful items could include a toothbrush and toothpaste, mouthwash or a mini deodorant – delight guests by thinking of everything!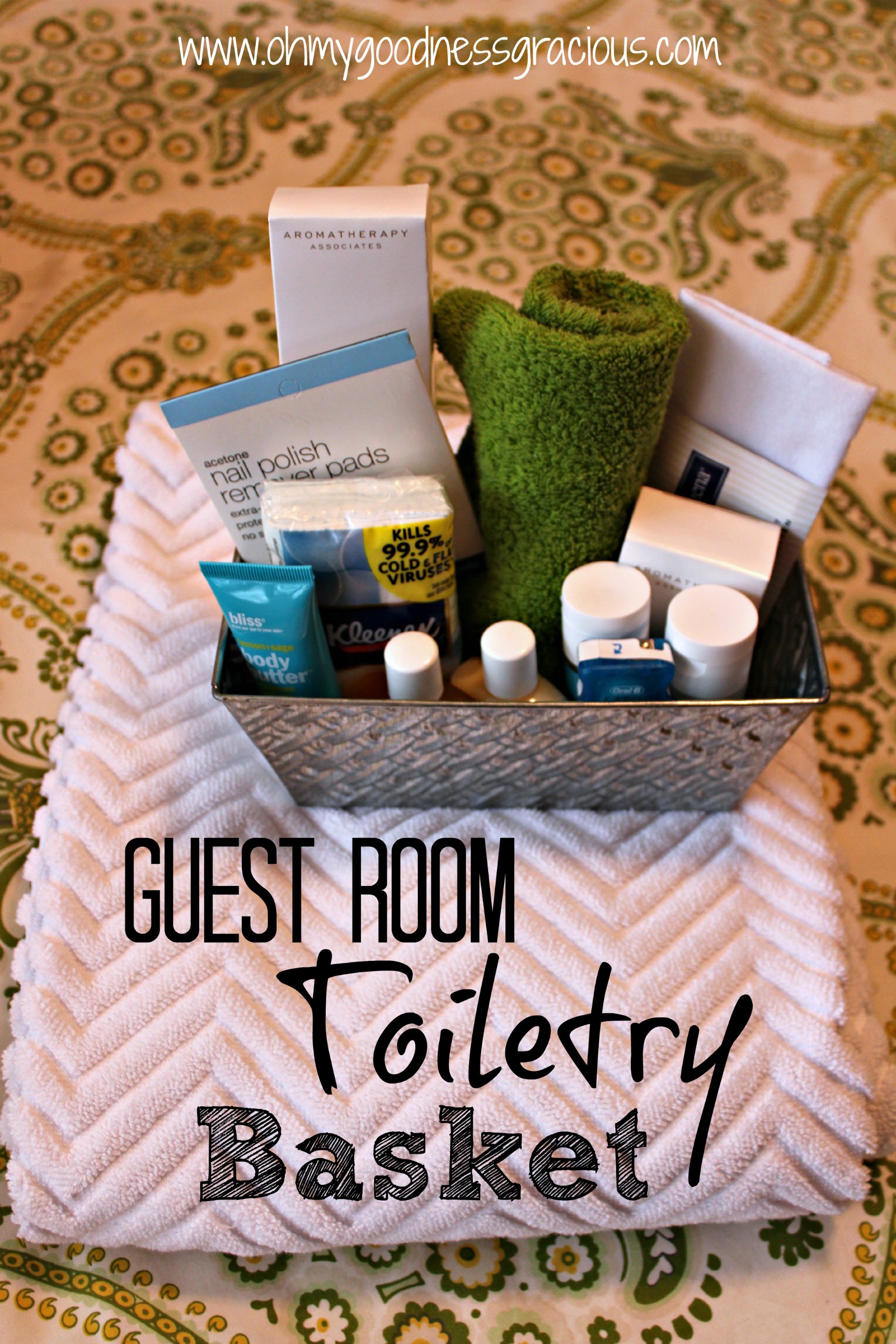 A Logical Layout
We recently improved the feng shui of our guest room by moving the bed in front of the window to free up some space on either side (and by removing a few unnecessary obstacles / random pieces of furniture). The windows finally received some treatment, and a transparent, geometric headboard (made locally by the friendly folks at Southern Chicks in Tallahassee, Fla., using discarded material from my friend's remodeled home) provides a focal point without completely blocking the window. The ginormous chest moved to its new, caddy-corner spot, rounding out that area of the room.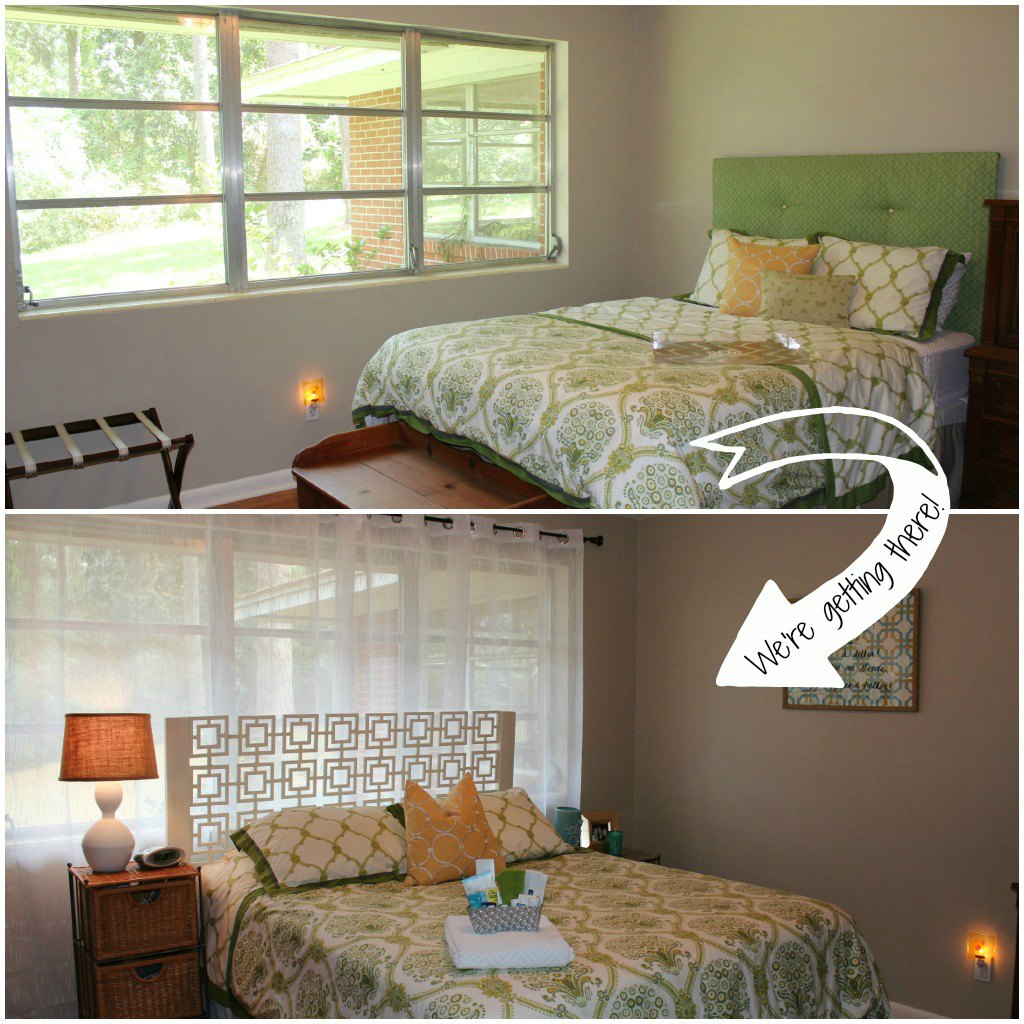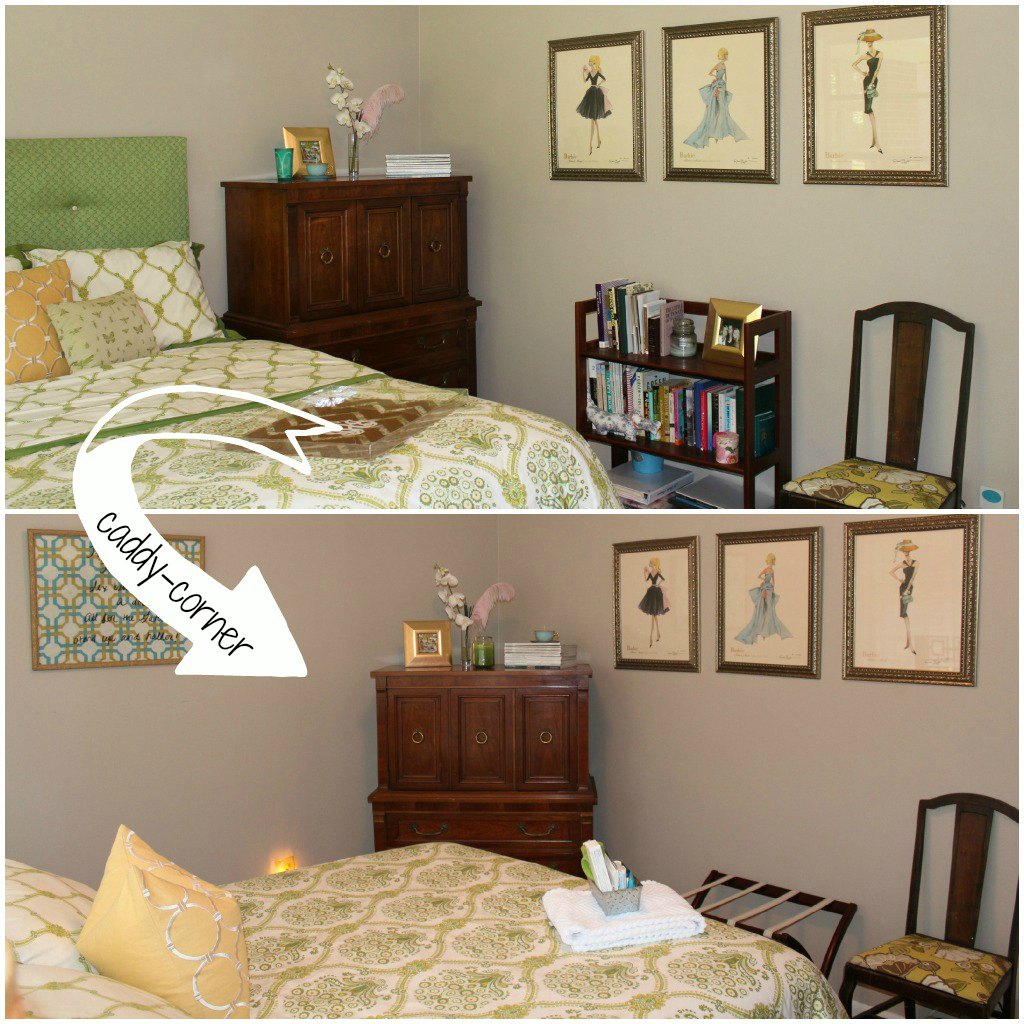 Creature Conveniences
Guests should have space to rest their belongings, including reading materials, glasses and phones. I used some existing basket drawers in our home to create two side tables, added a lamp (for bookworm guests) and an alarm clock (for snoozy guests) to one side of the bed, and a handmade tray with some accessories to the other. Oh, and I added a waste basket – not all that interesting, but it'll do for now.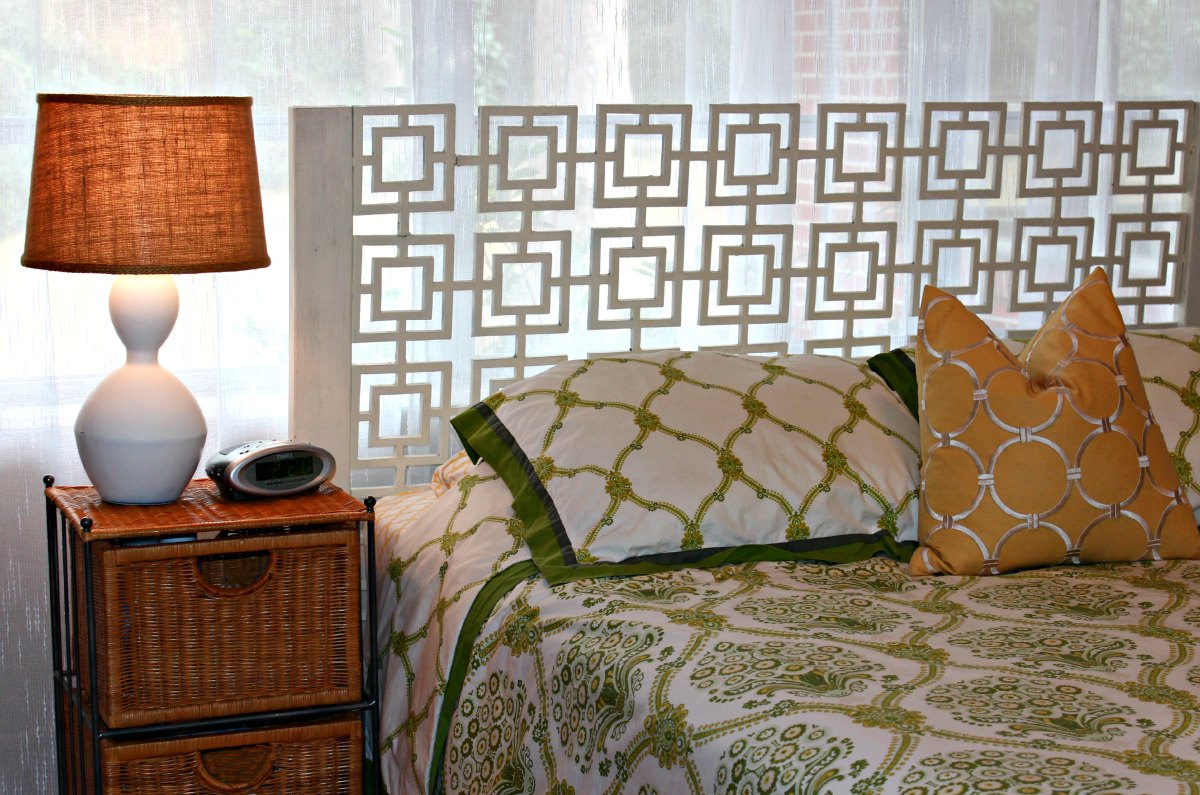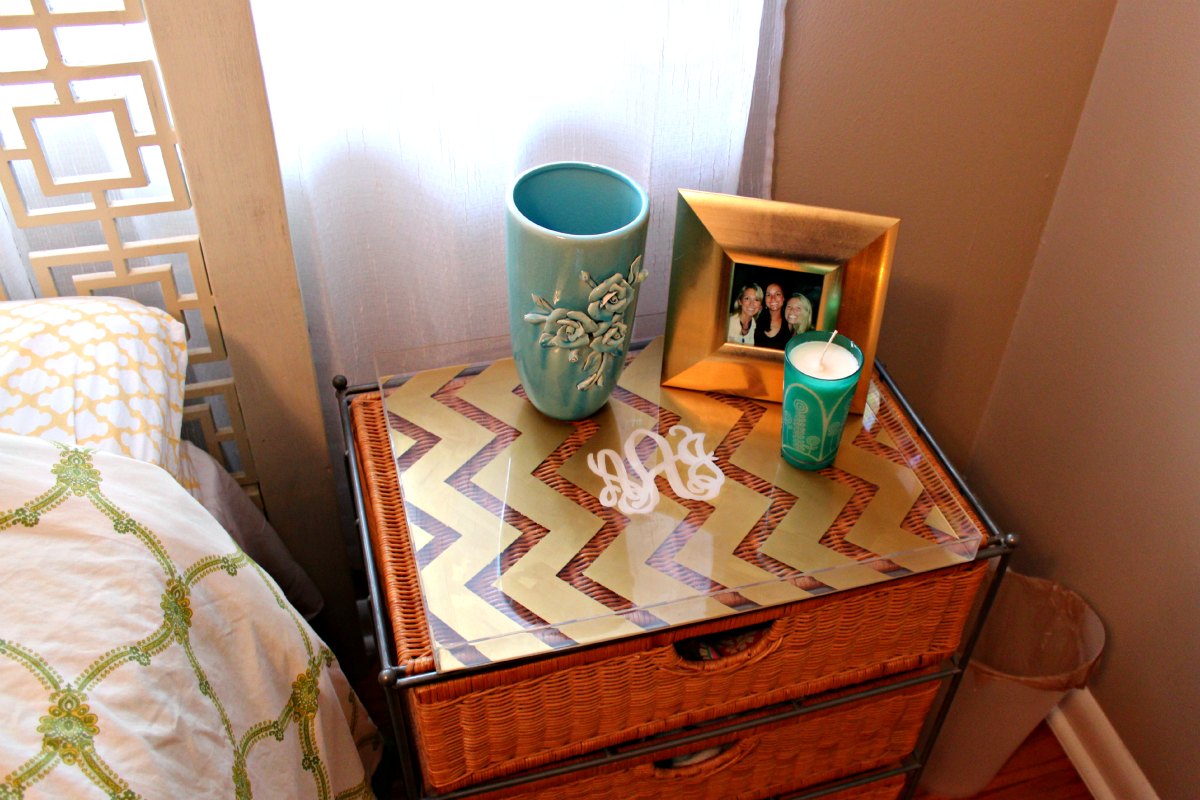 So here's an update on the guest room goals:
Rearrange layout for better use of space
Add curtain rod and curtains (surely this should have been the first thing we did!)
Replace headboard (I made current one haphazardly in 2005, pre-Pinterest)
Refinish and re-hinge chest + fill with guest blankets
Add:

Side tables (at the appropriate height)
Lamps
Ceiling fan
Luggage rack
Magazines
Candles
Night light
Mirror
Chair
Alarm clock
Tissue box
Waste basket
Jewelry tray
Guest book and pen
Wooden hangers
Robe(s)
Basket with toiletry supplies (soaps, shampoo, lotion…)
Touches like snacks, bottled waters, pillow chocolates, and flowers…
Local area beauty/history books and photos for out-of-town guests to appreciate
Guest towels and wash cloths
We're getting there! What welcoming guest room additions have you made in your own home?