I am excited to share the latest Courteous Contradictions guest post by Sarah Marie Powell! Her online etiquette advice rings true in our fast-paced, high-tech world. Personally, I fell short of polite in this area this week and totally e-gret it. This is a great reminder to keep words kind, in person and online. ~Allison

Happy 2013, OMGG readers! I hope each of your years is off to a fabulous start that continues throughout its entirety. How many of you made resolutions as the clock struck twelve? How many of you have already broken them…? Eeek! I'm not usually one to make resolutions; however this year, I decided to give it a whirl. In 2013, I want to try to be kinder. I talk about etiquette, manners, etc. all the time, but I often find myself contradicting my courteous rules in my everyday actions. That being said, my first post of the year is about netiquette – online etiquette. Seeing as the Internet is where I spend most of my time (Wait, maybe that is what I should try to change…), I figure that's a good place to start practicing my resolution!
If I had to guess, I'd say most of you are just like me in that most of your time is spent on one or more of the following: Facebook, Pinterest, Twitter, Linkedin, email, and/or various blogs. Maybe you actually do some work online, too. (*wink!*) With so much time spent online these days, it's really important to remember to invest in time spent with actual humans, but that's for another post. (Seriously, though – put your phone/tablet/computer down.) While the Internet can be a beautiful thing, it can also bring out the beast in each and every one of us. See, we all fall into the same trap at one time or another: we believe our screens are an invisibility cloak. Well, friends, that cloak is broken. You are more visible than ever on the World Wide Web. While it is possible to press "delete," nothing really ever goes away. I have no idea how it's possible, but just Google "Tara Conner" for proof. This isn't just about making sure you don't post racy photos, folks. While that should be common sense, it should also be a given that we should treat others with the same respect we expect them to use when posting about us.
Take it from the Emily Post Institute (Emily Post's Etiquette – 18th Edition, p.240):
Whether you're sending an email, commenting on a blog, or writing on a friend's Facebook page, three key considerations will help you communicate politely and effectively:
1. Human contact still matters.
2. Watch what you say – and how you say it.
3. Be careful when clicking "Send."
To help all of us remember the importance of netiquette this year and always, I've come up with an acrostic (props to Mandy Handley for helping me remember that word!):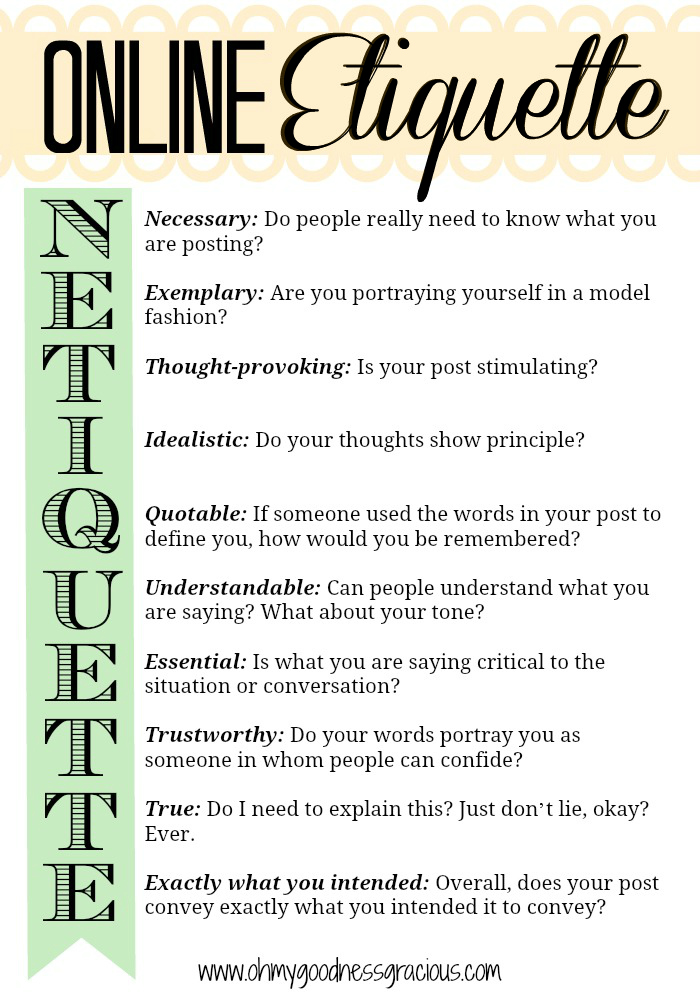 ~SMP